5 Best Armani Perfume for Men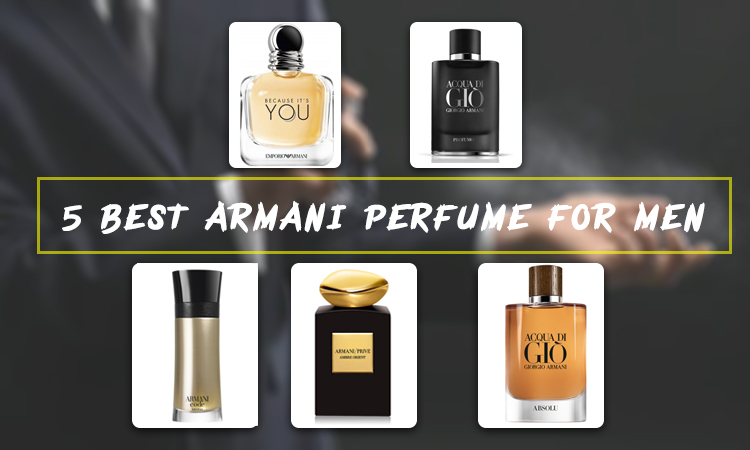 Armani the name which is immensely renowned to all. The name is popular for sophisticated fashion products. Clothing to cosmetics, Armani provides more than just giving a signature look.
If you talk about Armani's fragrance, it is one of the most popular among all products of it. Armani's perfume collections are famous designer's creation which can be suited in every event and with men personality. In this article we have outlined about 5 best Armani Perfume for Men and their characteristics.
Brief History of Armani Perfume
Let's know a little background about Armani's perfume.
In the world of fragrance Giorgio Armani first entered in 1981 with the release of its Giorgio Beverly Hills. However, in 1982 first branded perfume under this brand was launched and the name of the perfume was just 'Armani.' Later in 1984, the first perfume of Armani for only men was launched, and the name was Armani Eau Pour Homme.
Armani brand has introduced a variety of collection of fragrances. Those can suit any event and situation. For men, it has around 18 notably different masculine varieties. If you prefer woody, floral, some pleasing oriental fragrance, you will find all of them in Armani's perfume.
Giorgio Armani has created one signature brand for all people. His fragrances are everlasting and elegant, whereas some perfume contains more stuffing than the actual scent. Armani's perfumes contain a balance of fragrance and alcohol.
In the following part, I am going to discuss the five best Armani colognes for men.
1.   Acqua Di Gio Pour Homme Eau De Toilette
It first released in 1994. The fragrance of this scent will remind you of the Mediterranean. It is best for summer days, beach vacation, and tropical vacation.
Those people who want that their perfume doesn't go before them; instead, he and his perfume will pass along; it is perfect for them. As this has a light and fresh scent, it can be worn every day.
It contains a marine note, and the woody and aromatic scent will give you a strong masculinity feeling. The top notes of this perfume are jasmine, sporadic and rosemary while it has marine, bergamot, persimmon fruits as middle notes. Cedar, white mask, rock rose has created the base note of this perfume.
With such great chemistry of notes, it becomes truly an excellent fragrance for all time. For getting the perfect result, you should apply it on the pulse pint of wrist, neck and inner elbow.  The pleasant flavor of this perfume makes it useable for any occasion whether casual or formal. It will stay with you for a few hours.
2.   Armani Mania for him Eau De Toilette
It was first included in the Armani collection in 2002. It has an incredibly fresh and clean scent. The fragrance consists of some citrusy scent including some spices. In it, there is some green, earthy, warmth feature.
Tangerine leaves and saffron has made its top note. It has cedar and vetiver as its middle note, whereas amber and musk flavor contains its base note. It is perfect for using on casual occasions. The earthiness of it probably bit excess for applying informal events.
If you are going on a campaign trip or a movie theatre with friends, Armani Mania maybe the perfect perfume for you at that time. The fresh scent of the perfume makes it best for a warmer time, but its spicy and woodsy flavor makes it perfect for spring as well.
3.   Armani Code for Men Eau De Toilette
In 2004 it was first introduced, and it has taken Armani perfume in a famous extreme direction with its orient flavor. For creating its contemporary masculine flavor bergamot and lemon are mixed with the flower of the Olive tree, Tonka bean, and Guaiac wood.
Armani code has a strong and sweet scent. At first, you will smell a fresh powdery fragrance, but a little bit later, you will get a spicier and delicious flavor. For this flavor, Armani code has become so famous.
The perfume is quite strong, which makes it noticeable even in a crowded place. It is not perfect for day to day use or for casual use; instead, it is ideal for a special occasion. Apply it in the classic V-shape order to get the best result.
4.   Emporio Armani by Giorgio Armani for Men
It has been on the top list of all men's perfume from the launching year of it, 1998. This men perfume is extremely versatile. It comprises woodsy flavor along with some earthy note like- sage, cardamom, vetiver, musk, sandal, and cedarwood.
It is one of the best perfumes for casual use in the office or typical day to day parties. Though the perfume doesn't last a long time and not strong as well, its masculine nature can attract surrounding people.
5.   Armani Attitude
It is an excellent perfume of the Armani brand. When first applied, you will smell a lemon scent mixed with coffee flavor. Isn't it sound exotic? For me, obviously, it is a unique flavor. After some time, you will smell a woody, spicy flavor.
The sophisticated and clean fragrance of this perfume makes this perfect for both casual and formal events. Though the price of it can be a little bit high compared with other perfumes, it is worthy.
Conclusion
I hope from the above discussion you have got proper information about the best 5 Armani perfume. However, there are lots of other Armani perfumes available for men, such as- Armani Acqua Di Gio Essenza, Armani stronger with you, Armani Acqua Di Gio Absolu, etc.