What is Better to Use: Deodorant or Body Spray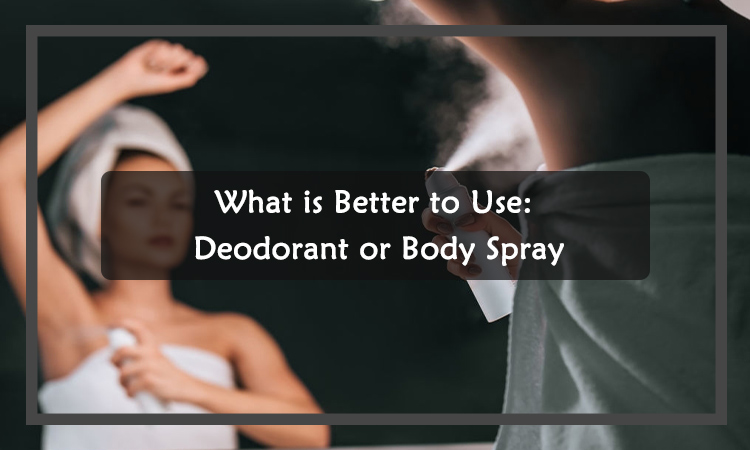 "Nothing is more memorable than a smell."
Smell plays an important part in our life, whether we realize it or not. Smell resonates with memories. Whenever we hear the rain, grass, new books, and flowers – it's like we get the sensation of having the fragrances of these things.
Therefore, you always want to smell good as it can create a good impression on everyone who meets you. In order to do so, many get s drawn towards the path of body or deodorants as good perfumes can cost a lot.
The concerns around body spray vs deodorant will be cleared after reading this article as we will thoroughly discuss these two.
Body Spray
Bodysprays are like perfumes. They are made of natural or chemical perfume oils, alcohol, or water. However, they are less condensed than perfumes.
A plethora of fragrance variants can be found these days. With body sprays, you will get mainly two options, alcohol-based or water-based. With the solvent, many fragrance extract, essential oils, spices, herbs, or chemicals are mixed to create the perfect smelling body spray.
Bodysprays freshen you up by providing a mask of beautiful fragrance, but they cannot prevent body odor. You can use body spray on your clothes or your skin, except the sensitive areas of your body. Furthermore, you can reapply whenever you feel like it is needed.
As body sprays are similar to perfumes, the lasting power of a body spray depends on the concentration of pure perfume or perfume oil in the body spray. Ones with more essence will last longer, but ones that are less concentrated will last only a few hours.
Deodorant
Deodorants are usually used under the arms to prevent any unpleasant odor. It acts as a shield so that the smell of one's sweat does not spread. It neutralizes body odor by fighting bacteria, oxidation, or other odor-producing elements.
Another variation of deodorant is called antiperspirant deodorant. While normal deodorants block the sweaty smell from spreading, antiperspirant prevents sweat itself. If you do not smell and your armpits are dry and fresh, they are less likely to smell bad.
Deodorants are used under the arms mostly, as that this is part of the body that sweats and stinks. You do not need to apply deodorant to other parts of the body.
Similar to body sprays, deodorants also can be made of natural elements or chemical compounds. They also come in different flavors of fragrances.
Compared to body sprays, deodorants last longer. You can apply once and can forget about reapplying all day.
Body Spray vs Deodorant | Which one to choose?
While body sprays are more about smelling nice, deodorants are more about preventing the smell of sweat. Both are similar, apart from the lasting power and application method.
Which one you should choose among deodorant and body spray depends on your preference. There is no right or wrong answer to it. If you like to stop odor and want something long-lasting, then you can choose a deodorant.
On the contrary, if you want to smell nice and fresh, want to have an aroma around you, and don't mind reapplying, then go for a body spray.
Some of you might be thinking about whether it is okay to apply both. You might be wanting both the effects of preventing sweat and also a refreshing smell.
You can definitely use both. You can use deodorant under your arms and use body sprays on your skin and clothes. With both applied, you can wonder tension free the entire day.
Final Note
By now, you know that it is all about preference when the argument on body spray vs deodorant comes. You choose what you are comfortable using and how you want to smell. And don't forget to choose a scent that everyone will remember you for.
One response to "What is Better to Use: Deodorant or Body Spray"