Light Blue vs. Eau Intense Cologne Comparison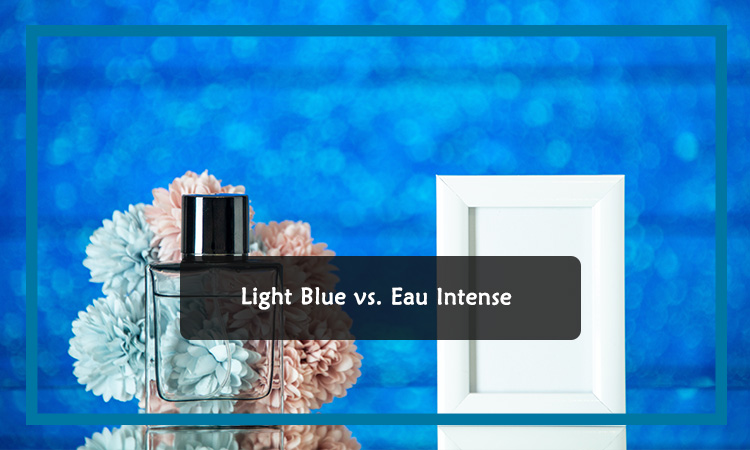 In the world of perfumes, when its flankers follow up an original scent, a discussion about which one is the better scent is quite common. Light Blue vs. Eau Intense is a debate that has been going on for a few years now.
Light Blue is a line of fragrances launched by Dolce & Gabbana. The original Light Blue scent has taken the world by storm and became quite prominent in the world of perfumes. Fragrance lovers from all over the world love it even after all these years since it was first launched. However, there are mixed reactions toward Light Blue Eau Intense.
In this article, we will discuss both the colognes in as much detail as possible to give you a good idea about the scents. You can then decide for yourself, which one of the two do, you prefer.
Light Blue vs. Eau Intense
In this section, we will deliberate over Light Blue Intense vs. Light Blue cologne for him by Dolce & Gabbana. It is a debate that has been ongoing since Eau Intense was released. The difference between the two can be observed in the notes used to create such incredible scents.
Light Blue pour Homme
Light Blue pour Homme is a Dolce & Gabbana cologne. Ever since it was launched in 2007, the fragrance is one of the most popular among perfume lovers. In fact, Light Blue pour Homme won the prestigious FiFi Award Fragrance of The Year Men's Luxe 2008.
Described as a modern-day classic by its user, Light Blue pour Homme smells fresh with a slight hint of salty. Even though the scent is not particularly unique, it smells pretty expensive.
You can wear this tempting masculine scent on summer and spring days to feel more confident and alluring. Its longevity and sillage will make investing in a bottle of Light Blue pour Homme cologne worth it.
Fragrance Family: Citrus Aromatic
Top Notes: Bergamot, Juniper, Grapefruit, and Sicilian Mandarin
Middle Notes: Brazilian Rosewood, Pepper, and Rosemary
Base Notes: Incense, Oakmoss, and Musk
If you love the salty and oceanic smell along with the whiff of the clean and fresh aroma, Light Blue will be your savior. Its woody undertone is a nostalgia that will remind you of days long gone. The scent is lighter and more rejuvenating than Eau Intense. It will make you feel alluring without overwhelming you or anyone else.
While Light Blue is still widely preferred, a common complaint is that it is not as long-lasting as its flanker is. Light Blue is not as intense and strong compared to Light Blue Eau Intense, which is a bummer for many Light Blue lovers.
As the original scent, it will always be favored as around ten years of memory is attached to the smell before Light Blue Eau Intense was launched. Therefore, it is quite understandable why many people would prefer to stick with it. However, trying out a new scent is always a good idea as you can create new memories. On that note, let us discuss Light Blue Eau Intense Pour Homme.
Light Blue Eau Intense Pour Homme
Light Blue Eau Intense Pour Homme is a flanker of Light Blue pour Homme. It was launched in 2017 with some changes in its notes yet quite similar to the original scent. A masculine scent wrapped in Amberwood and musk became an instant favorite for fragrance collectors.
A combo of citrusy and salty fragrance, the scent will take you to summer days spent at the beach. For those who love taking summer holidays by the beach, this scent is a summer holiday wrapped in a bottle and will evoke nostalgia and the best of memories.
Perfect for summer and spring days, you can wear this fragrance to feel rejuvenated and self-assured in your essence. It is a kind of scent you can wear on any occasion without worrying about leaving a trail of unwanted aroma.
Similar to Light Blue pour Homme, Light Blue Eau Intense Pour Homme has incredible longevity and sillage that will make investing in a bottle absolutely worth it.
Fragrance Family: Woody Aquatic
Top Notes: Mandarin Orange and Grapefruit
Middle Notes: Juniper and Sea Water
Base Notes: Amberwood and Musk
Light Blue Eau Intense Pour Homme is much sharper and lasts longer than the original Light Blue. Furthermore, the scent is much stronger and more intense but will not become overpowering. The design of the bottle and the blue liquid within gives the cologne a more contemporary vibe. If you are looking for a modern aesthetic bottle to put on your shelf, this will definitely, please you.
Keep in mind, due to its top notes, you will get an initial blast of citrusy smell. While many people find it welcoming and refreshing, some are not the biggest fan of citrus.
For those of you who love the woodier and muskier smell, you should, without a doubt, go for Eau Intense as Amberwood and Musk are the base notes.
Light Blue Eau Intense will allow you to explore a more amplified version of Light Blue; hence, giving this a shot is worth the time and money.
Our Verdict
Scents are entirely subjective. You might prefer one that someone else might not. We always suggest people to pick the scent that sings out to them, the scent that one feels most connected to, the smell that evokes the strongest emotions. You should always wear the perfume that aligns with who you are as a person, with your personality.
Likewise, the discussion regarding Light Blue vs. Eau Intense becomes completely subjective, as you might prefer one that we might not. At the end of the day, we advise you to pick the one that feels right to you. Both the scents are incredible in their own sense, but only you will be able to discern which one of the two is better for you.
One response to "Light Blue vs. Eau Intense Cologne Comparison"