Most Expensive Colognes in The World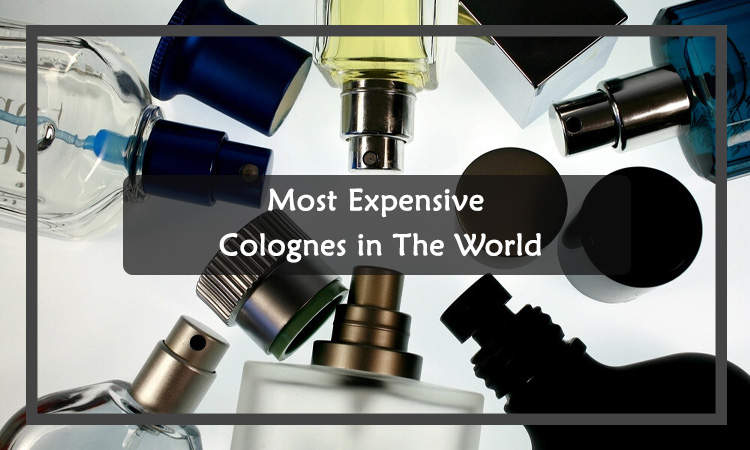 Back in the 18th century, when cologne was first invented, only the Royals used to use them. It was a symbol of royalty as only they could afford some of the most expensive colognes. However, with the passing time, perfumers increased in number, as well as perfume production. Hence, the commoners started using perfumes.
Therefore, the royals and higher class people started to demand unique and exotic perfumes that would stand out. Hence, perfumers started creating more opulent perfumes to satisfy the demand of the people from the higher class.
Till this time, perfume or cologne is a luxury item. People want exclusive perfumes with rare ingredients and a smell that creates an impact. And not just that, it has to come in a luxurious-looking bottle.
Most Expensive Cologne in the World
In 2019, a perfumery in Dubai, Nabeel Perfumes, claimed that they had created the most expensive perfume after three years of experiment. They have achieved this glory after 494 perfume trials.
The perfume is called "Shamukh" in Arabic, which translates to "deserving the highest." The perfume comes at a price of $1,295,000 for three liters. This one-of-a-kind perfume has hints of sandalwood, musk, Indian agarwood, Ylang-ylang, patchouli, and  Turkish rose.
Moreover, the perfume comes in a bejeweled bottle that is covered in diamonds. And the astonishing part is, the perfume bottle is remote controlled and is the tallest commercially available perfume bottle in the world. It holds two Guinness World Records for that.
10 Most Expensive Colognes
Now, let's talk about some expensive colognes that you can actually own. Unlike the Shamukh, they come in a suitable size so that you can add them to your collection. However, these are no less exclusive and do not compromise with the luxurious look.
1. Clive Christian's Imperial Majesty
Clive Christian is popular for creating some of the most unique and expensive fragrances. This one is so far their most expensive cologne, and it smells amazing. The perfume oil is made of some rare high-quality ingredients.
Furthermore, the bottle is crafted to perfection. The top of the bottle has solid gold and diamonds in it. This is truly an opulent perfume. No perfume lover would want to miss the opportunity to have this.
Price: $435,000
2. Clive Christian No. 1
As we already mentioned, Clive Christian is known for making expensive perfumes. Therefore, the second most expensive perfume is also from this brand. This cologne is on the favorites list of many celebrities.
The bottle of the cologne screams royalty. It has a woody, musky, and warm spicy scent that compliments men wonderfully. A prestigious brand from the crystal industry collaborated to create the incredible bottle of this perfume.
Price: $2,150
3. Creed Aventus
Creed is famous for its men's perfumes or colognes. This one from Creed is their best-selling men's perfume. So you can imagine how mindblowing the fragrance is. The scent is sophisticated yet powerful. The notes include blackcurrant, apple, pineapple on top; patchouli, juniper berries, and jasmine in heart; and musk, oakmoss, vanilla, and ambergris at the bottom.
The bottle has the classic after-shave-looking vibe to it. The black and silver-metallic-looking accent on the glass bottle projects strength and mystery.
Price: $1,055
4. Roja Parfums Musk Aoud Absolue Précieux
This Roja Parfums is a simple yet sensual perfume. Despite having simple notes, this perfume provides the luxurious fragrance you expect from a thousand-dollar perfume. It has only two top notes, lemon, and bergamot. On the heart, it has rose, jasmine, ylang-ylang, and the bottom notes contain musk, vanilla, nutmeg, etc.
This is a signature perfume by Roja Dove himself. The blend is made of the finest ingredients, and you are bound to go for another sniff once you smell it.
Price: $1,050
5. Caron Poivre for Men
Caron Poivre, a true classic perfume from the 1950s, is still desired by all. This sensational smell has proved its reason for glory for decades. It is rich with a floral and spicy scent. This has a perfect aromatic blend for men who want to leave an impression.
The bottle design showcases the timelessness of the fragrance. It comes in a crystal bottle with some gold in it. Your perfume collection will surely be incomplete without this classic cologne.
Price: $1,000
6. Tom Ford Neroli Portofino Forte
Nothing can go wrong with Tom Ford perfumes. This one is on the list of most expensive cologne, though Tom Ford mostly has perfumes that cost less compared to this. The Tom Ford Neroli Portofino Forte cologne is bold, vibrant, and sensual. The fragrance boosts your confidence and empowers your personality.
This mesmerizing green bottle contains notes like bergamot, mandarin, lemon, blood orange, lavender, etc., on top notes. It has orange leaves, neroli, orange blossom in the middle, and leather, musk, sandalwood, amber, suede, oakmoss, muscone, etc., in the bottom.
Price: $860
7. Bond No. 9 New York
This signature perfume with a seductive smell will surely turn heads. This satisfies your desire for sensuality with a tad of masculinity. The extravagant fragrance comes from essences like citrus, musk, exotic flower, and fresh greens.
The bottle of the perfume is unique as it is shaped like a star. A bedazzled golden star bottle will ensure you feel like a star.
Price: $650
8. Creed Spice & Wood
If you could bottle up masculinity, then you would get this cologne from Creed. It is the perfect concoction that projects the smell of spice and wood, which is obvious. Though in the top notes, you could smell lemon, warm clove, and apple. Clove, pepper, birch, angelica, and patchouli are some of the heart notes, and at the bottom, it has oak, moss cedar, iris, and musk.
Look-wise, similar to the previous Creed perfume, the bottle screams masculinity with some royal touch. The gold accents in the bottle with a little darkness protrude strength and power.
Price: $545
9. Penhaligon's The Tragedy of Lord George
This cologne is truly astonishing. The golden deer bottle head will catch everyone's eyes. The name of the perfume also grabs anyone's attention. This unique perfume is made of perfect blends of spicy and woody scents.
Similar to the bottle, the fragrance is bold and manly. The scent will boost confidence and make you feel empowered. You can get the essence of woody, musky, vanilla, and a little bit of sweetness from it.
Price: $533
10. Baccarat Rouge 540
This red bottle of Baccarat is packed with sex appeal. Both men and women can use this perfume without compromising in grabbing everyone's attention. The bright red bottle with some sparkly golden emphasizes lust and romance, but its aroma is quite soft and sophisticated.
The fragrance very simple and has floral notes with an earthy base. It has simple top notes with only saffron and jasmine. In the heart, it has ambergris, amber wood, and as the base, it contains cedar and fir resin.
Price: $424
Expensive Colognes under $500
If you want the taste of luxury but do not want to go bankrupt, you can go for the following ones. These are more on the lower side (by no means affordable). So, an average person can at least save up and buy some of these.
By Kilian Musk Oud Arabian Nights, $395
Frederic Malle Superstitious Cologne, $390
Clive Christian Original Collection 1872 Masculine, $350
Amouage Jubilation XXV Man, $340
Parfums De Marly Pegasus, $310
Giorgio Armani Bleu Lazuli, $310
Penhaligon's The Blazing Mister Sam Cologne, $278
Louis Vuitton Sun Song, $265
Tom Ford Oud Wood, $250
Maison Francis Kurkdjian Aqua Universalis Forte, $227
Why Should You Buy Expensive Colognes?
Most colognes price range from $25 to $150, so to many, spending so much on a perfume might not seem justifiable. However, there are times when you might want to have an extravagant cologne.
You can buy an expensive cologne for your wedding. On your wedding day, you want to stand out from everyone else, and what better way to do that than smelling good.
You can gift some of the most expensive perfumes to your loved ones, especially those who love collecting perfumes. They will surely appreciate your gift.
If you are wondering whether it is worth it to buy an expensive cologne – yes, it is. Good perfumes are long-lasting and take only a few sprays. Even though you are paying a lot, but this will last at least a few years.
If you hate reapplying your cologne every few hours, then definitely give it a try. These perfumes are expensive for a reason. You can apply them once in the morning, and the fragrance will stay with you all day long, if not more than that.
Lastly,
You need to understand that you are not paying only for the perfume. You are paying for the brand value, resourcing the exotic and rare ingredients, quality of the ingredients, the craftsmanship for making the perfect mixture, the trial and errors for creating the perfect blend, the designing, and making of extra-ordinary packaging, usage of valuable metals and stones on the bottle, etc. So, even for a simple perfume, it takes a lot of resources and labor.

People are willing to pay extra bucks for this special item and the experience as they understand the behind-the-scenes of perfume making. Considering all these make the price worthy for the most expensive cologne.