What does Fig Smell Like (Fig Perfume)
Without even knowing what does fig smell like, many people dislike it and don't want to buy it, thinking that how something like fig will smell. It is better to eat as a fruit than to use its perfume as a perfume.
Well, it is a misconception of people mainly as they have not ever used or smelled a fig perfume. If they knew how fig perfumes smell, they would certainly not have thought like that. Instead, upon seeing, they would have bought at that instant.
In fact, many people don't even know that fig perfumes exist. So, if you fall under any of the mentioned criteria of people, then this article is for you as you will get a complete idea about what does fig smell like (fig perfumes).
Who knows, it might also become one of your favorite scents? Keep Reading.
What is Fig?
Generally, a fig is commonly denoted as a fruit to us. Still, in reality, if you look a bit closely on the inside, you will see that it is a collection of small flowers that develops inside an edible covering.
It grows in abundance in the countries such as Greece, Spain, Turkey, California, etc. The figs usually have a strong sweet taste, which we often see its use in various dessert items.
Besides eating as fruit and decorating with dessert items, the fig is also used in perfumes due to its unique sweet and soothing scent. For these reasons, it grabbed people's attention and became immensely popular in some areas of the world.
Although you will not find the fig fruit to eat all around the year, but you can definitely get and find the fig perfumes throughout the year. So, if you are a fig perfume lover, it is undoubtedly good news for you.
What does Fig Smell Like?
Fig perfumes are perfect for those who love the sweet, sour, creamy, and fruity types of scents. And, of course, a fig lover. It also combines beautifully with the floral and musk notes to offer an unbelievable exclusive aroma that is sure to grab attention.
However, when blended with coconut or any green notes, this tart and sweet smell can offer a Mediterranean scent. It is also considered a sign of luxury, magnificence, and sensuality.
Right from grabbing eyes to increasing confidence level, a fig perfume can play a significant role. But you need to get the exact one that suits your body to get the best possible result. Otherwise, you may not get the desired outcome.
Now that you know how fig smells like let's look at the below list of some of the best fig perfumes that are available in the market:
What Are The Name and Smells of The 5 Best Fig Perfumes?
The addition of the fig in the perfume world has certainly taken it to the next level. How?
It offers a unique sour, sweet and creamy kinds of aroma when used in combination with other scents and perfume notes.
We have made a list of the 5 best fig perfumes ever, so you can know which one has what type of smell and thus can quickly grab yours, depending on your desire and requirement. Check out the below list:
Diptyque Philosykos
This one is at the top of our list due to its fantastic woody and green smell of figs. In fact, upon just opening these perfumes, you will feel that an explosion of fresh green fig accompanied by the creamy and sweet aroma of coconut coming from it.
This unique blend of fig and coconut offers a lovely, realistic, and fresh aroma that will start getting better with time instead of disappearing. Unfortunately, when this fragrance starts getting fade, it offers a more woody aroma.
Overall, this perfume is a fabulous option to go for if one likes their scents to have a sweet and woody sensation. It is perfect for use in both the spring and summer seasons.
In fact, it is often referred to as a summer perfume as it contains a perfect combination of green and fresh aromas coming from it that is sure to revive and uplift one's mood. Hence, you can use it every day in the summer seasons as it will give you a very refreshing, convincing, and appealing smell.
| | |
| --- | --- |
| Top Notes | Fig, Fig Leaf |
| Mid Notes | Fig Tree |
| Base Notes | Woody Notes, Black Pepper |
Promenade Des Anglais Guerlain
Another one of the best stylish looking and famous perfumes is Promenade Des Anglais from Guerlain. It is a classy perfume that uses powerful woody and fruity fragrance notes to offer an energetic and lighter appearance.
While opening these perfumes, the first smell that will entice your nose is a beautiful blend of violet leaf, bergamot, currant buds, and fig to give you a sparkling sensation. On the other hand, the base notes containing orris, white musk, and heliotrope actually don't come through their own instead complement the last traces of the fig completely fade away before the fragrance.
You can use these handy fig perfumes throughout the year, but the most suitable time to use is the daytime.  It is very light and soft, for which it tends to get disappeared after 3-4 hours of single-use.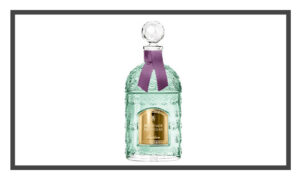 | | |
| --- | --- |
| Top Notes | Bergamot, Currant Buds, Fig, Violet Leaf |
| Mid Notes | Lily-of-the-Valley, Rose, Mimosa, Violet |
| Base Notes | Orris, Heliotrope, Musk |
Aqua Di Parma Blu Mediterraneo
Blue Mediterraneo is undoubtedly one of the best fig fragrances that come with a woody and citrus aroma. Upon opening, one gets to experience an aroma of various citruses, which helps in reviving and uplifting one's mood.
It is the best choice to wear, especially in the summer season, but you can also use it regularly as it suits almost every situation beautifully. Like you can use the scent while going to office, casual outing or any occasions. Believe me; it will perfectly blend to help you shine more by giving you the exact confidence and attention you want.
This perfume features a combination of sweet, spicy, and citrus notes at nearly all levels. For this reason, it has successfully grabbed the title of refreshing to its name as while opening; you get a mixed smell of the top notes containing grapefruit, bergamot, and lemon.
On the other hand, the pink pepper dusted core notes of the sweet fig nectar and jasmine temper the spiciness, deep start by letting the complex mixture balance wonderfully with the earthly base notes of cedar, fig tree, and benzoin.
It stays intense and penetrating for at least 4-5 hours of single-use. Although the bottle may look a bit old-fashioned, the tall, clean layouts and the vibrant blue glass flawlessly complement the overall perfume.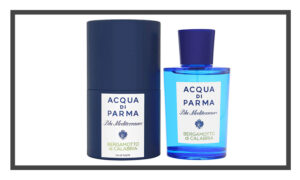 | | |
| --- | --- |
| Top Notes | Grapefruit, Bermagot, Lemon |
| Mid Notes | Pink Pepper, Fig Nectar, Jasmine |
| Base Notes | Cedar, Fig Tree, benzoin |
Thierry Mugler
This fig perfume is well-known for its lovely and sensual smell. Upon opening the scent, you will get a fantastic tropical fig aroma coming along with an extremely sweet and sensual sensation from it.
In fact, many users have said that after wearing these perfume, they feel that the background around changes, and it felt like a gentle wind aroma near the beach areas. Furthermore, you can use this one all around the year in all seasons.
It is also an excellent option to wear while going to a club or any other party as it is perfect for offering a sensual impact on the surroundings. In other words, it is a charm and stimulating smell to the nose that grabs attention where ever you go. For which many often call it an attention-grabbing perfume for women.
It comes with a fig note that rapidly combines into the core notes of fig leaf and tree, which further reduces the sweetness to make it green and fresh. In simple terms, it is a perfume that is perfect for every woman as it contains a combination of everything that a woman could possibly desire in their fragrance.
Although it can be worn throughout the year, yet its best effect can be sensed during the summer season the most. Why? As it stays spreading the same aroma for a long period compared to all the other seasons, particularly if you also use it on your clothes and hair.
| | |
| --- | --- |
| Top Notes | Fig Leaf, Caviar |
| Mid Notes | Fresh Fig |
| Base Notes | Fig Tree |
Byredo Pulp
Next on our list is Byredo Pulp that has a sweet fruity aroma coming from it. That's why while opening, one gets to experience a lovely smell of fruit, specifically plum and apples. The floral undertones reinforce this extremely sweet smell of fruits.
When these scent starts settling down, the more aroma of wood begins getting stronger. Yet, this perfume emphasizes more on the fruity smell. It is perfect to wear, especially in the cold, fall, and spring seasons.
However, it works and gives the best result in the colder seasons due to its fruity, sweet, and resilient smell. It also offers a lavish sensation making it an ideal option to wear during formal meetings or gatherings.
It is an exquisite and unique unisex perfume that both males and females can wear as it combines fruits, florals, and spices uniquely and magnificently. The top notes provide a rich and soothing opening that is soon deepened by the middle notes to make the sensation more luxurious and unique.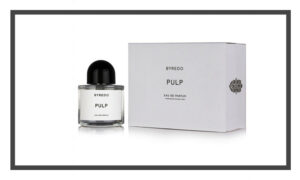 | | |
| --- | --- |
| Top Notes | Bermagot, Lavender |
| Mid Notes | Bulgarian Rose, Moroccan Rose, Iso E Super, Patchouli, Geranium |
| Base Notes | Ambroxan, Vanilla, White Musk |
To Conclude
Fig perfumes have certainly played a vital role in creating another revolution in the perfumes world. They can combine perfectly with a wide range of notes to offer a unique and classy aroma.

It has the exact blends of sweet, tart, creamy, and fruity flavors to help one glow and shine by offering a positive and energetic vibe. So the next time you see a fig perfume, you already know the answer to what does fig smell like while grabbing one for yourself.

Therefore, based on your preference, get one as it will surely make you feel like a superstar without letting you down even for a bit.