10 Ways to Know about What to do with Old Perfume Bottles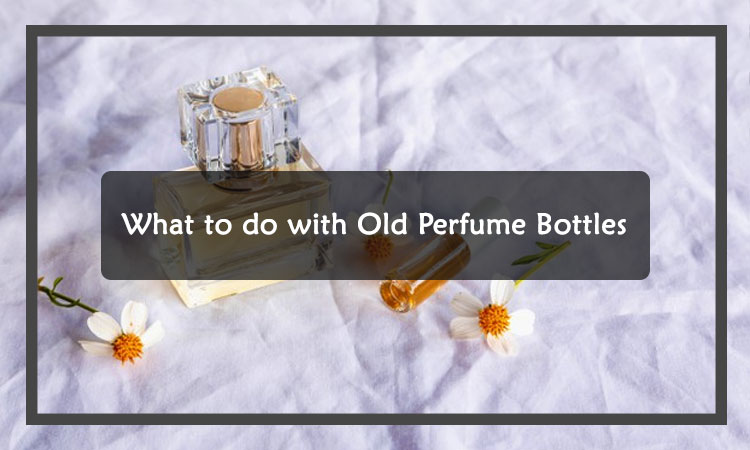 Perfume bottles are made to look attractive. They have intricate designs, textures and comes in alluring colors, which makes it difficult to throw away when the perfumes are finished.
Then a time comes when you want to get rid of the empty perfume bottles, then again, you do not. Well, we have some good news for you. We have shared 10 uses for old perfume bottles. Go ahead and choose any of these ideas and create some perfume bottle décor.
What to do With Old Perfume Bottles?
As we mentioned earlier that if you can recycle perfume bottles – is your main concern, then you are in the right place. We do not have just one, but ten solutions as empty perfume bottle ideas.
1. Create Decorative Display
The easiest one for reusing old perfume bottles is creating a display with them. Perfume bottles themselves are very attractive to look at, but when you decorate them or organized them together, they can look even more appealing.
In the simplest form, you can buy a tray and beautifully stack old bottles on the tray and place it where you want. You can go for the two or three-tier cupcake trays if you have enough old perfume bottles to display.
2. Reusable Spray Bottles
If you do not want to spend much time redecorating your empty perfume bottles but want to make them useful, turning them into spray bottles is the best idea.
You do not even have to do anything. Just take the empty perfume bottles, clean any leftovers and put water or other mixture in the bottle. That's it. You can put water and essential oils to create refreshing sprays, air fresheners, facial mists, etc. You can also put only water to spray your plants.
3. Transform into Glitter Globe
Who does not love snow glitter globe? Some of the good ones can cost you a little, but you do not even have to spend that if you have old perfume bottles lying around in your house.
Put some water, oil, or glycerin and lots and lots of glitter, and turn your favorite perfume bottle into your favorite glitter globe.
4. Use them as Diffuser
If you have a little perfume left that you do not want to use anymore, then you can use them as a diffuser, specifically a reed diffuser. You can buy some reed diffuser sticks from any nearby store or from online and then put them on the perfume bottle.
You can also add water to fill a little more of the bottle with the leftover perfume oil. This way, it will last longer. Then put your DIY reed diffuser anywhere you want.
5. Make Flower Vase
You can turn your beautiful old perfume bottles into flower vases. You can remove the nozzle and other spraying parts and use them as flower vases. It is a better idea for bottles that are slightly bigger for bigger flowers. You can put smaller flowers on smaller bottles.
To make them look even more appealing, you can color coordinate. Like in a pink perfume bottle, you can put pink flowers.
6. Make Artistic Creation
You do not necessarily have to keep the old perfume bottles as it is. You have full freedom to experiment as much as you want. Paint them, put stickers, bids, or pearls on them. Do whatever you feel like to create something new and unique.
There will not be another piece like yours, so go crazy with your ideas and be creative with your empty perfume bottles.
7. Event Décor
If you have an upcoming event, you can always use your old and empty perfume bottles for decorating by transforming them into perfume bottle décor. They make really good decorative pieces. You can use perfume bottles for events like baby showers, bridal showers, engagements, Christmas, etc.
8. Oil Burner
Similar to the reed diffuser, you can turn your empty perfume bottles into oil burners. You do not need to put anything extra to make them smell good as you already have little perfume in them. However, you can certainly add more scented oil for more fragrance. Put a wick in your oil, and it becomes an oil burner.
9. Candleholder
Another good way of reusing old perfume bottles is to turn them into candle holders. You can attach some scented candles to the perfume bottles and decorate with them in your house. You get a decorative piece as well as good smelling home with the candle.
10. Make Light Features
To make your rooms glow up, you can always add some lights. To make it even more attractive, you can add few bottles of your used-up perfumes. With smaller bottles, you can create a light feature. Another way is to put some bottles together and use fairy lights around them to create a visually pleasing light décor.
The Bottom Line
Instead of storing your old perfume bottles in a boring way, spice up your interior with them. They will look good as well as have a new use. Now that you know what to do with old perfume bottles, you should start creating something new.